The garden called me out early this morning to the first light captured and held on flower faces. I caught them peeking heads up over the fence and inviting me in for the show.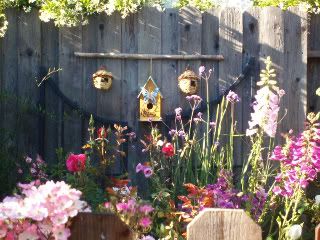 I hurried over to see, to appreciate them in their purist form with rich, vibrant colors all dressed fresh and new because life blooming in its early stages, just like new-found faith, has to be nurtured and tended on a daily basis if it is to keep giving back. Sure as rain the weeds will come. Colors will fade and the soil will dry.
It's easy to see the beauty in the new and vibrant, when everything looks like a heart newly surrendered; like a new relationship with God in the beginning stages. But both require on-going attention - not a simple one-time "watering of the garden" only to leave it to thrive on its own.
Like newborn babies, crave pure spiritual milk,
so that by it you may grow up in your salvation,
now that you have tasted that the Lord is good.
(1 Peter 2:2-3) NIV