You might know her.
She's that friend, that relative, maybe even that woman at church or that other mom facing the same day-to-day choices and challenges you do.
She's the one sort of sitting on the fence about her faith, sort of half-way believing and sort of going about life with an empty spiritual tank.
Empty and lost hoping worldly "things" will fill the void.
But they never do and never will.
You want to talk to her about Jesus, but just haven't found the words or the opportunity. You pray about it and watch for the moment….
THAT divinely-inspired moment carved out of a little corner in the day.
You feel it deep inside.
You have to do this.
You need to do this.
You hesitate with the words.
What will you say?
How will you go about it?
"…remember this: Whoever turns a sinner from the error of their way will save them from death and cover over a multitude of sins." (James 5:20) NIV
Did you know that you'll find the Prayer of Salvation on the last page of
every issue
of
Christian Women's Voice Magazine
? We're working on issue #7 and it blesses me to know that, in the past year, this prayer has been utilized in helping to win souls for Christ. It doesn't get any better than that, does it?
God will lead you in conversation with your pre-Christian friend.
Let the prayer in the back of our current issue help her to begin a
relationship
with Him!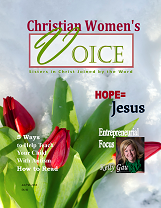 Photo credit: http://www.publicdomainpictures.net/view-image.php?image=8179&picture=flowers-and-tea-cup